Jessica Nicholson
co-founder + creative director
Originally from Woodstock, New York (USA), Jessica Nicholson grew up in Richmond, Virginia (USA). She studied Art and Visual Technology at George Mason University in Fairfax, VA (USA). Since graduating, she has worked in the field of Graphic Design and founded Medulla, LLC, a graphic design firm, with her business partner, Jessica Fleenor. In May 2016, in the spirit of adventure, Nicholson and her husband chose to move abroad. The couple currently lives north of Düsseldorf, NRW (Germany). Since moving overseas, Nicholson has become the Graphic Designer for the American Women's Club of Düsseldorf. She spends her free time cooking, taking photos and exploring Europe.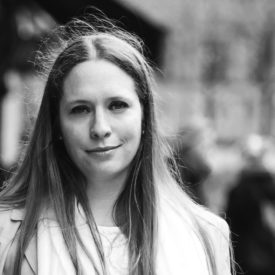 Adrift Designer
Not all those who wander are lost — it's a favorite quote among those who, like me, live abroad. I won't lie — I usually am lost, and I'm okay with that. I have a terrible sense of direction. Instead of fighting my natural state, I have learned to embrace this shortcoming and have found that it is, in some ways, a strength. Being directionally impaired has helped me to develop the skills I need to create successful designs. In my state of calm disorientation, I have made discoveries that I never would have dreamed of otherwise.
When I don't know where I am, I absorb my surroundings and find the way home. I make wrong turns; I look around; I find my path. I take advantage of whatever tools I possess. I am eternally grateful to the inventors of cell phones and GPS. And as I meander down streets and alleys, I find new things — a favorite restaurant, a beautiful park, a new friend.
Being lost is like beginning a design — it's puzzling and I don't know what to do at first. I have all this information and I need to piece it together in order to reach my goal — a functional and visually appealing design. I get to work; I set goals; I make mistakes. I use my tools — software, instincts and inspiration. Eventually, I take a step back and look at the big picture. I am surprised to discover that I have found my way and that everything has fallen into place. I have discovered something pretty amazing.
Wandering aimlessly has led me to unexpected discoveries and designs that I am proud of. I have taken a few wrong turns, but with a little luck and help and perseverance, I always find my way.
see jessica nicholson's personal portfolio page